It's my first time! This gem was started by
Sydney
over at
The Daybook!
She prolly doesn't know it yet, but I think she is pretty RAD and I don't even know her!! Check her out fo sho!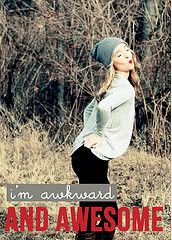 Awkward:
Taking 10 min. or more to come up with my first awkward moment.
My "bird nest" hair first thing in the morning.
Ordering food, not liking it, and the moment that the waitress notices you have a lot left and says "Would you like a box"?
Eating 5 Great American Sugar Cookie Icing Sandwiches in a week! (500+ calories.) Yes, I think so!
Miranda in SATC (Sex and the City), the early season's, with her insanely unflattering hair cut and overalls. Did New Yorkers really ever wear overalls???
Johnny Depp films.
Only ordering food for delivery because you are too afraid to see where it has been cooked!
Awesome:
Great American Cookie Company's Icing Sandwich Cookies!
My bird nest hair in the morning.
Sex and The City ( I have watched every single episode so many times I've lost count!)
Having 5 followers now! (and counting I hope!)
Feeling inspired to write so much lately.
Almost 3 books finished toward my 100 book goal!
Finishing my first "Awkward and Awesome Thursday"! Thanks Sydney!
Until Then.......