It's that time again lovies!!!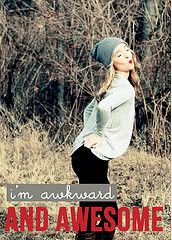 Awkward:
As my family and I are driving around a neighborhood and I see a body lying in a yard. I shout for my dad to back up and tell my husband to get out and check on the guy. My mom gets out of the car to knock and the front door and hubster gets out to go to the rescue! Upon exiting the vehicle he shouts "Sir" and the man very tall grown looking boy sits up! He was playing around the whole time! Everyone just kinda turned around and got back in the car.....
When walking your dog through the neighborhood he conveniently decides he needs to "relieve" himself in a random persons front yard and you notice that you just so happen to be out of bags! So you just stand there with a sheepish look on your face and then promptly run home, grab a bag, and return (sans furry friend) and clean up! YIKES!

Running into a person you have only met a few times and realizing that you cannot for the live of yourself remember their name in order to introduce them to hubs. So, you start that cat and mouse game with them and try to trick them into introducing themselves and once they do you quickly apologize because "I am so bad about introducing people" like that's how it was all along!! Doh!!!

Awesome!!

Making plans to meet one of my bestest friends in the world in NYC for some mega fun!!

Getting money I didn't expect! Like coat pockets, tax returns, and surprises!

The sun shining more and the snow beginning to melt!

Finding some VERY cool old things whilst cleaning out a closet!

Still loving and rocking the awesome cut and color my awesome seester gave me!

Getting a GREAT idea for this weeks photograph!


What about you guys?!?
What kind of awesome and awkward things happened to you this week???

Until Then....