(and the answer is no - I had no idea this blog existed when I named mine! Great minds think alike!)
I thought it'd be fun to participate and send a lil love to other fanciful bloggers out there!
I am like a sponge, soaking up all the creativity I can, and this is a great way to do just that!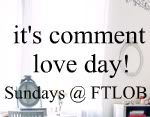 Also, be on the look out for a new design here @ For the Love of All Things Beautiful! I am currently teaching myself a lil graphic design skill! So, once I have arrived on something that I am happy with you guys will be the FIRST to know!
I do apologize for the frequent decor changes. But, I have to be honest. That is my personality in all of it's glory!
How do you guys feel about the frequent visual changes? Does it make my blog difficult to follow? Are you constantly searching for things?
What are your thoughts on this?
Don't be afraid to hurt my feelings. Those of you that are constructive will be welcomed with open arms, but those of you that are mean will be politely ignored.
(said in my sweetest June Cleaver voice)
Thanks Lovies!
Until Then.....