Ello Pretties!
Did you know something crazy?!?
The very next time I post I will have reached 100 blog posts!!!
Wowza huh?!?
I'm thinking a give away is in order!
Check back to see what fancy schmancy I'll be giving away!
(Maybe it will be hand made cards, maybe it will be my first try at the cutesie head bands I see in blog land! I just don't know!)
I decided to have some fun today and link up to a few of my favorite blogs.
You should just know that I read A LOT of blogs!
They make me happy and inspired!
The first blog par-tay I'm joining is a BIG one!
Shout out to all the peeps stopping by from 5MFM!
So that all of the newbies stoppin by can get to know me better I'm going to give a little background.
Here's a secret-I'm not actually a Mommy yet.
But, I will be, when The Lord's willin.
I was born and raised in TEXAS and have a very special place in my heart for all things Southern.
Right now, I live in the Nawth (North) and I have to say, I'm a lil out of my element!
It's April and it snowed today.
(Cue scrunched up concerned face)
I am married to Hubster for almost two years now.
We met when I was 18 and spent the next 8 years on the roller coaster of love.
In June of 09 we were married in the Houston heat and have been having a ball ever since!
Isn't he HOTTTT!!!
I'm pretty new to blogging, in the grand scheme of things anyway.
So far I have been hesitant to categorize myself.
Hence the name! :)
I love so many different things and this is THE perfect outlet to share them all!
Here are a few of my passions:
Cooking/Baking
Photography
Crafting
Shopping
Music
Reading
&
Traveling
Here are a few of my struggles:
Eating healthily
Exercising Regularly
I'm so very excited to keep meeting friends in the blogging community and you all should know that you inspire me on a daily basis!
Blog Stop numba 2!
The ever so beautiful (inside and out) Ashley over @
The Shine Project
is having her first Shine Project Link-Up!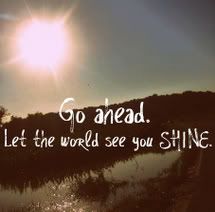 Ash challenges her readers to step outside their boxes and become a role model by paying it forward with random acts of kindness!
I think the world could use a few 10 bajillion more Ashleys!
So, although I didn't get out of the house much this week I did my best to meet the challenge of paying a compliment each day.
I paid compliments to other bloggers through posting on comments and bragging about them in my posts.
While dining out, a mother got up to take her daughter to the restroom and the bus boy assumed they were leaving. He was about to clear their table but I politely spoke up and let him know they would be back! I saved their food!
I ALWAYS say yes ma'am, yes sir, no ma'am, no sir, please and thank you no matter WHAT to everyone!
(I can thank my Southern up-bringing for that! :)
Thx so much Ash for starting this fabulous party!!!
My last, but certainly not least stop today is
Fab Friends Friday
@ For the Love of Blogs!
Who doesn't like making new friends?!? I'll take that chance any day!
FTLOB really creates so many fun opportunities to do that!
THX ladies!!!
I hope you guys have enjoyed learning a lil bit more about me and visiting all the beautiful blogs that I have mentioned here today!
Until Then...